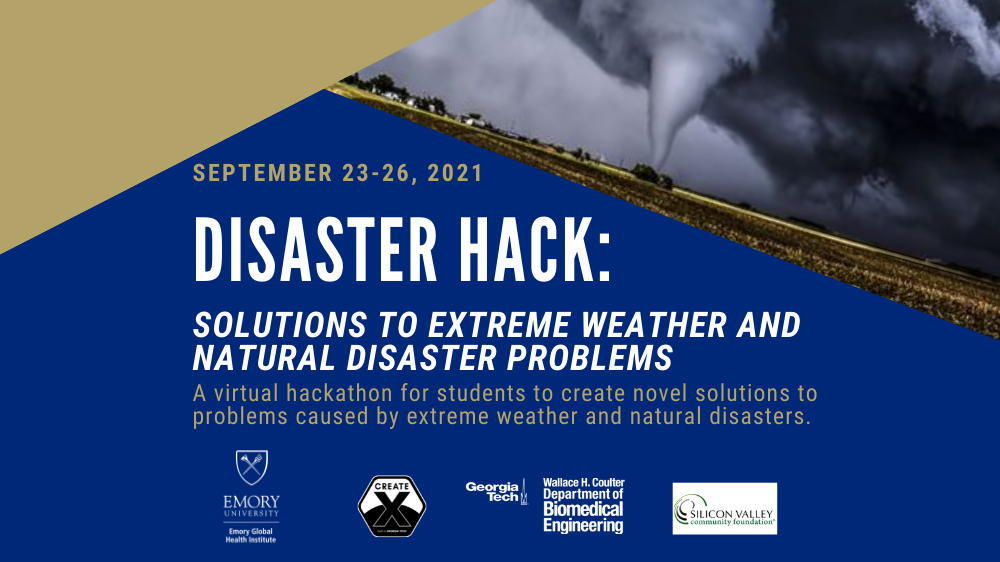 How to Apply
---
The EGHI/GT Disaster Hack is a virtual hackathon that provides Emory and GATech students an opportunity to create novel solutions to problems caused by extreme weather and natural disasters. The goal is for student teams to develop marketable products. We welcome and encourage undergraduate and graduate students from all majors and disciplines to participate! Teams of Emory University and Georgia Tech students compete for cash prizes and the opportunity to take their solution to market through GT's CREATE-X Startup Launch during summer 2022. This is a collaboration with Cisco, the Emory Global Health Institute, CREATE X, and the Coulter Department of Biomedical Engineering at Georgia Tech & Emory.
EGHI/GT Disaster Hack | September 23-25, 2021
Frequently Asked Questions
The hackathon is virtual. Registered teams will submit a video deliverable online to be reviewed by a large pool of expert judges. For more details about deliverables, please click here.
Teams must have students from BOTH Emory University + Georgia Tech to win prizes.
Teams must have 2-6 undergraduate or graduate students (Fall 2020 grads are eligible).
The winning team will receive $4,000 and automatic enrollment in Georgia Tech's CREATE-X Startup Launch. CREATE-X Startup Launch helps students launch their projects from idea stage (or beyond) into fully functioning and viable startups.
The 2nd place team will receive $3,000. The 3rd place team will receive $2,000. Two honorable mention teams will each receive $500.