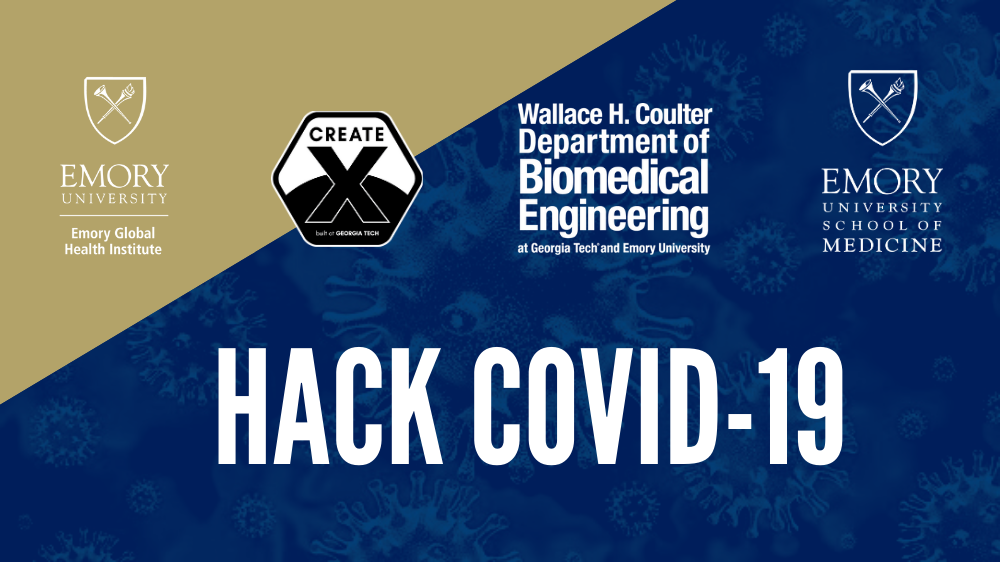 How to Apply
---
HACK COVID-19 is a virtual hackathon for students to create novel solutions to COVID-19 challenges unique to returning to work and school settings. Teams comprised of Emory University and Georgia Tech students will compete for a cash prize and the opportunity to take their solution to market through Georgia Tech's CREATE-X Startup Launch. This is a collaboration among the Emory Global Health Institute, CREATE-X, the Coulter Department of Biomedical Engineering at Georgia Tech & Emory, and the Emory University School of Medicine.
HACK COVID-19: Back to Work & School Solutions | January 22-24, 2021
Frequently Asked Questions
The hackathon will take place January 22-24, with the winners being announced on January 26. For a more detailed breakdown, please click here.
The hackathon is entirely virtual. Registered teams will submit a video deliverable online to be reviewed by a large pool of expert judges.
The hackathon is open to undergraduate or graduate students from Emory University and Georgia Tech (including Fall 2020 graduates). Each team can have up to 6 students and must include at least one from Emory University and at least one from Georgia Tech. Please note: you cannot work alone!
You will register as an individual using your school email address. To find team members, you can utilize Slack. Other mechanisms for finding team members will be available soon.
The winning team will receive $3,500 and automatic enrollment in Georgia Tech's CREATE-X Startup Launch. CREATE-X Startup Launch helps students launch their projects from idea stage (or beyond) into fully functioning and viable startups.
The 2nd and 3rd place teams will receive $3,500. And then 4th through 10th place teams will receive $1,500.